How does home automation work?
One of the
strengths of the connected home
is its
ability to adapt to the needs of the user
.
So much so that it is possible at any time to adjust the pyramid of needs without major changes to the home automation system.
Thus,
your system will automatically adapt
and adjust its cursor in the
home automation triangle
.
For example, below, an installation focused on comfort, with automatism on the lamps, actuators under conditions or even self-managing openings: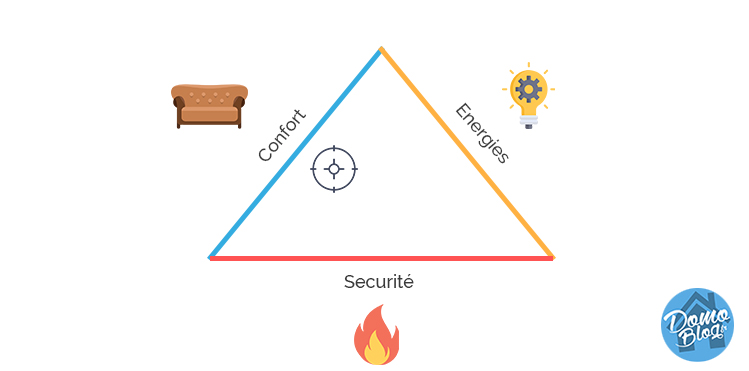 In fact, a system that aims to play a security role in the first place, with
an alarm system equipped with a few sensors and a siren
, alerts in the form of notifications on smartphones, etc. A system that can easily be upgraded later. according to desires, needs and especially the budget.
Enrich yourself
with energy meters
or even systems and peripherals aimed at automating certain tasks in the house.
It is a real plus that
a home automation box
offers us
, this flexibility and molecularity is unparalleled in the field.
Safety in the connected home
Vast area than security with a home automation box.
I mentioned above an intelligent anti-intrusion system, but it is also fire detection or water leak detection through video surveillance.
A single system is able to manage these three aspects of home security, making it a complete way to secure the home with the added bonus of simplified remote control.
Savings in the connected home
Last domain of the domotic triangle, the intelligent and flexible management of energies as well as the resulting savings.
Significant savings that are easier to acquire.
If for a while it was simple to significantly reduce your electricity bill by replacing incandescent bulbs with much more economical LED bulbs or low consumption, today we must find other levers for improvement.
In fact, the automated management of certain positions allows optimization of the usage time as needed and therefore direct economic spinoffs.
More concretely, saving money using home automation does not mean restricting yourself to pay less.
On the contrary, on-board intelligence will take advantage of every unnecessary moment to cut off a device, a light or any source of energy according to a given scenario.
You won't even notice it, and that's all the magic of the smart home.
Home automation works for us, in every sense of the word
If it is a question of alerting you to a potential danger,

home automation works for you

.

If you need to turn on a light automatically when passing through a corridor,

home automation works for you

.

If your electricity bill is still too high,

home automation works for you

.
You will understand,
home automation is beneficial
.
The famous
home automation triangle
is at our service to protect us, improve our comfort and support us every day in energy management.